The Outsiders

Ripped Shirt
14 tracks, total running time 58 mins 41 secs. All original compositions
Track Listing

1. Bastard Blues On A Kamikaze Highway



2. Get it

3. Ripped shirt

4. What If I don't know Your mind

5. Headline blues

6. Dirty side Of rock'n roll

7. Leave The past behind

8. I want you

9. We'll Be Drinking

10. Down (like an apple) ode to Jesco White

11. Poor cow

12. Still life

13. Tell mama

14. Nothin




Ripped Shirt is the second album by The Outsiders. The debut album Skin, was issued in 1990 and was a ten track vinyl only release (please send for details).
Ripped Shirt features electric and acoustic guitars, bass, drums, percussion, violin, mandolin, tablas, harmonica and various vocal. With influences ranging from Iggy Pop, Jerry Lee Lewis, Bob Dylan and the hillbilly sound of Boone County, USA this album is a real melting pot of ideas and styles.
Currently a five piece band from Colne Lancashire England, The Outsiders are one of the hardest working pub rock bands on the European circuit. Last year this band clocked up an amazing 300 gigs and are set to break their personal best in 1997 with dates around the UK and Holland into November 97.
The Outsiders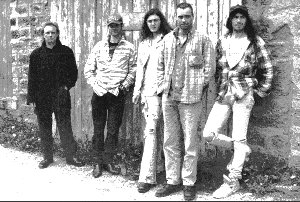 Mel Outsider: vocals, harmonica

Mark Caffrey: bass, vocals

Liam McCartan: guitar, vocals

Chris Hartley: guitar, vocals

Brian Warren from Swansea, Wales helps with lyrics and is a general assistant with most creative developments.


A new album titled "The Proud Ones" wil be ready for release by October 97 and a version of "All Or Nothin" (Steve Marriot) will be included on the soon to be released "Whats In The Pub 1999" a Dutch compilation on Pub Records record label.
What the press say about The Outsiders and Ripped Shirt
Down to earth boogie fired honesty!!

(Jim Connelly, Rock n Reel magazine).
Versatility has no bounds!! (Lynne Guy, Metal Hammer).


Totally bonkers but kinda cute!! (Dave Ling, Raw)


Thick juicy powerchords, low down dirty vocals, furious riffing, great stuff!

(Lyndon Noon, First Hearing Magazine)


Tasty fiddle solo! A commendable willingness to take risks.

(Chuck Fennelly, First Hearing Magazine)


Steve Marriot's All Or Nothin is written on their body

(Marcel Haerkens, OOR Magazine, Holland)

<Previous | Index | Next>