Ken Nicol

Living In A Spanish Town
13 tracks. Total running time: 57 mins 22 secs. All original compositions.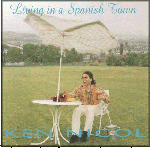 Track Listing
1. Midnight cowboy

2. Last night in Paris

3. Should've known better

4. Credit card blues

5. Living in a Spanish town

6. Last chance

7. I'd rather be with you

8. Down on the island

9. One more night

10. This time its me

11. Jigs & reels

12. Back out of love




Ken Nicol has been recording his tasty guitar and vocals for various renowned artists tor over twenty years. He was a regular member of Al Stewarts band touring and also featuring on several classic albums. He is currently a full-time member of The Albion Band, fronted by former Fairport Convention member Ashley Hutchings.
"Spanish Town" is Ken's long overdue solo album featuring Phil Beer (Show of Hands) and Chris While (Albion Band). From Preston, Lancashire Ken can still be found playing solo shows on nights off from touring with Ashley.
Ken Nicol: guitar and vocals

Roger Sergeant: keyboards

Stan Mansfield: bass guitar

Phil Latex: drums

Phil Beer: mandolin

Chris While: vocals

Hilary Craven: vocals

Martin Scott: piano and accordian
What The Press Say
Intelligent adult orientated soft rock, thats certainly solid and interesting. His Jigs & Reels tune is powerfully effective. (Rock'n Reel)


Both inspiring and entertaining, a truly difficult balance to master.(Alan Parsons)


Kens returns from the USA is one of the best things to happen to the British music scene. (Issac Gillory)

<Previous | Index | Next>