Leo Lyons

Kick: Tough Trip Through Paradise
12 tracks. Total running time: 59 mins 45 secs. All original compositions.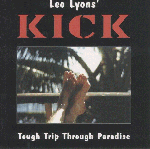 Track Listing
1. Feel good about it

2. Driving on the wrong side

3. Save me

4. Living legend of the blues

5. Mad bad and dangerous

6. Working in a parking lot

7. Tough trip through paradise

8. Bad blood

9. The last picture show

10. Big black

11. Say the word

12. Living it up




Leo lyons was a member of "Ten Years After" along with famous axe hero Alvin Lee (Yes). The very same man who threw the water melon from the stage after an epic version of "goin home" at Woodstock Festival. This is a fine solo album from one of the hardest working bass players in the world today. The sound is a real drivin blues rock with a real tight band that features "All About Eve" drummer, Mark Price. You can find more info on the band by contacting KDC Distribution, Munich, Germany.
Leo Lyons: bass and vocals

Tony Crooks: guitar and vocals

Jon Willoughby: guitar and vocals

Mark Price: drums

Steve Rodford: drums

Don Airey: keyboards

<Previous | Index | Next>