Fiasco

Colours
4 track EP. Total running time: 18 mins 55 secs. All original compositions.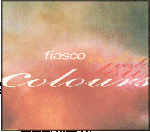 Track Listing
1. Colours

2. More (Acoustic version)

3. Colours (Radio edit)

4. Miserable man




Fiasco were formed from the ashes of Liverpudlian group 35 Summers. We released one 12" EP for 35 Summers in 1989 with tremendous success. The result was a place in the UK independent charts leading ultimately to a deal with RCA Records. A further two singles were released via RCA until the band split in 1991.
Dave Pichilingi the vocalist and songwriter remains active on the Merseyside music scene.
(Colours features an interesting sample from the film Paris, Texas.)

<Previous | Index | Next>