Angela Costa

Soul Disease
15 tracks. Total running time: 58 mins 36 secs. All original compositions.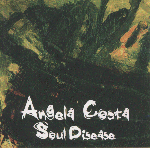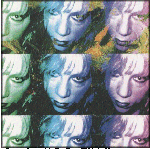 Track Listing
1. Middle of the day

2. Circus beserk

3. Stars begin to fall

4. Mothering Sunday

5. Disillusion

6. Inside the kiss

7. Being born

8. I just don't know

9. Sisters of mercy

10. Waiting for my angel

11. The empty chair

12. Oh my heart

13. Soul disease

14. Wait a minute

15. Rebirth of wonder




A published poet and active on New York city's lower east side spoken word and music circuit. She performed regularly at venues such as CBGB's and the Mercury Lounge as well as the Nuyrocian poets cafe. Injecting spoken word rants and poetic interludes between songs to create a new hybrid. Laura Nyro termed her style the musical vignette. Whilst playing the rounds, Angela's audiences became a who's who of poets and sonwriters such as Alan Ginsberg, Ntozake Shange, Jeff Buckley and Laura Nyro. Whilst Angela was visiting a friend at university in London, I was lucky enough to see her perform some solo acoustic gigs in town. The result of this chance meeting is my favourite album so far for Planet, I think climbing Pendle hill at my suggestion at midnight on the day before the recording sessions certainly had some bearing on the sound of "Soul Disease". (Pendle hill is renowned for its legends surrounding witchcraft and wicca) Angela has already recorded several interviews for UK Radio and will continue to perform across the country until the end of 97. All songs are written by Angela Costa.
Angela Costa: vocals and guitar

Frank Bidulph: violin

Jaquie Sharples: cello

Richard Miles: stick, loops and drum programmes

Mel Outsider: drums and percussion
What The Press Say
New York poet decamps to Lancashire, England to make album of murkily atmospheric avant folk music. Costa's voice has a clear take no crap edge in the style of her forerunner Patti Smith. Eccentric string arrangements with the cello giving a John Cale/Velvets touch. For all its weight and density however, her music is made more immediate by the simple forces of her tunes, usually built around an acoustic guitar for folky directness. (Paul Du Noyer, Mojo)


Soul Disease sticks to Costas passionate, overtly poetic and dynamic delivery. Vocally and rhymically reminiscent of Patti Smith mannerisms, but freed up with touches of Laura Nyro's soul exorcisms and some Dylanesque rambling. Concentrated wordiness makes for demanding listening, yet there is considerable beauty hereabouts. She could soon enjoy the same sort of profile afforded todays crop of fiesty female writers. (Martin Aston, Q Magazine)


A semi classical atmosphere pervades against an absorbing and strong delivery that hints at a meeting of Patti Smith and the Brodsky quartet. Largely avoiding the verse chorus cliche she manages to create an album that destroys all preconceptions I had. Offering a sometimes uneasy delightfully unique angle on the female singer/songwriter genre she has produced an album that in its fiveteen tracks manages to create more suspense, atmosphere and appealing stylish minimalism than a hundred so called press darlings could reproduce in a hundred albums. (Sean McGhee, Rock'n Reel)


I haven't heard anything as strong and as personalised from a female singer in years, she leaves one hell of an impression, and whilst I know this album won't storm the charts it deserves to be heard by anyone out there who finds the current fare a little jaded. Challenging and rewarding, a real cracker! (Huesy, Modern Dance Magazine)

<Previous | Index | Next>