Michael Chapman

Navigation
13 tracks. Total running time 65 mins 45 secs. All original compositions.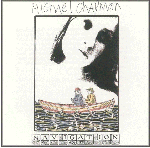 Track Listing
1. Uncle Jack


2. It ain't so

3. Hard times

4. Drinking again

5. Cudgegong

6. The wind has changed

7. Little Molly's dream

8. The mallard

9. The north will rise

10. Old times

11. Looking for George

12. Navigation

13. This reminds me of you




Navigation was the 21st album from a career stretching back to the late 60's for one of the most respected singer/songwriters in the world. Not since his classic album "Survivor" have we seen so much accolade heaped onto this often neglected genius.
I have been a lifelong fan of Michael's music which all started with my brother bringing home a copy of Survivor way back in 1971. This album featured ripping guitar solos like I had never heard before or since by th late Mick Ronson (later to join David Bowie and record the classic Ziggy LP.)
Between the years 88 -95 Michael seemed to disapear from the media view until I booked him to play at my venue, Jim's Cafe, Colne, Lancashire, after the gig I asked him if he would like to record an album for Planet Records and the result was "Navigation". A dream come true for me with the release of this breathtaking album in 1995. Navigation was included in the top five folk albums of 1996 by Q Magazine and he has since gone on to secure a deal with demon Records, Brentford, England. Michael and I still work closely together with live tours and press.
Michael Chapman: guitars, vocals, bass and percussion

Rick Kemp: fretless bass

Ray Laidlow: drums and percussion

Verity Alexandra: backing voices



What The Press Say
With a delivery that makes John Martyn sound like a shakespearian voice coach the one time hero of the Harvest record Label returns with his best album in years. The old obsessions, love, loneliness and drinking have not been explored this convincingly since 1970's "Qualified Survivor". An album to break hearts old and new. (Rob Beattie, Q Magazine)


The excellent "Drinking again" is a fine example of grown up teenage blues. Twenty one albums on and he's still amazing. Rick Kemp of Steeleye Span and Ray Laidlow of Lindsifarne guest. (Sue Smith, Mojo Magazine)


"Little Molly's dream" is the sort of guitar piece that makes your jaw drop. This is simply as vital as anything he's ever done, not fancy, no icing but the cake tastes delicious. (Chris Nickson, The Rocket Magazine, Seattle, USA.)


Clocking in well over an hour but not a single weak track to be found, Chapman aficionados will be in the seventh heaven over this. Check it out, and you will be too. Ten out of ten. (Dave White, Rock'n Reel)


Chapman has to be the most underated songwriter and guitarist on the planet. Put down the Clapton CD and listen to this.

(J.P, Time Out)

<Previous | Index | Next>