Slack Alice

Broken Dreams
12 Tracks. Total running time: 55 mins 37 secs. All original compositions.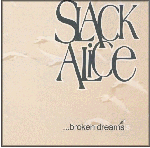 Track Listing
1. Pick up a heart


2. Rock'n roll

3. Oh ya ya

4. Love and pride

5. Bar room stool

6. Buttercup fields

7. All you really need

8. Mr love man

9. Poor mans playboy

10. Seagull

11. Release
12. Somewhere tonight




Slack Alice were a product of the 70's and a casualty of punk rock. Formed in 1972, from Barnoldswick, Yorkshire they play endless gigs on the college and club circuit. Often featured in papers of the day such as Sounds. Record Mirror, NME and Melody Maker, they eventually gave up the ghost in 1978. A prog blues rock quintet fronted by Cockeresque frontman Cliff Stocker, they recorded one highly collectable LP titled "Billy plus nine" now bringing in excess of £120 through dealers and collectors magazines. The band was reformed in 1995 and the result so far has been this wonderful collection of songs old and new from the original line up.
Cliff Stocker: vocals and acoustic guitar

Malcolm Crossley: bass and vocals

Alan Parkinson: guitars

Chris Preston: guitars

Kevin Higgins: drums

Jim Ainsworth: vocals

Lindsay Smith: vocals

Rita Rowe: vocals

Paul Nuttal: piano
What The Press Say


Love and pride is a haunting piano laced ballad and the key to the bands enduring appeal. (Keith Fritton, Lancashire Telegraph)

Put it on, turn it up and wallow, a couple of listens and you will be humming along to at least one of the tracks. (Vivien Meath, Burnley Express)

<Previous | Index | Next>